Director of Research (CNRS)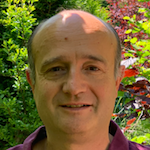 Analog, Mixed-signal, RF, MEMS, Microsystems, Design-for-Test, Built-in-Self-Test



Academic Background
Salvador Mir (member, IEEE) received an Industrial Engineering degree (Electrical, 1987) from the Polytechnic University of Catalonia, Barcelona, Spain, M.Sc. (1989) and Ph.D. (1993) degrees in Computer Science from the University of Manchester, UK, and the Habilitation à Diriger des Recherches (2005) from Institut National Polytechnique de Grenoble, France.
He is a Research Director of CNRS (Centre National de la Recherche Scientifique) at TIMA Laboratory in Grenoble, France.
He created the Reliable Mixed-signal Systems Group at TIMA Laboratory in 2002 which he led until 2014.
He was director of TIMA Laboratory from January 2015 until December 2020. He is currently a member of the RMS team.
His area of expertise is analog/mixed-signal/RF/MEMS design for test. He has been General, Program, Topic Chair and member of the Steering Committee of many IEEE/IFIP International Conferences.
He is editor and co-author of two books on silicon Microsystems, and the co-author of 5 best paper awards in IEEE ETS'09, IFIP/IEEE VLSI-SoC'10, IEEE ETS'12, IEEE ETS'15 and IEEE ETS'18.
Research Topics
Computer-Aided test and diagnosis for mixed-signal/RF CMOS circuits
Design-for-test of mixed-signal/RF  CMOS circuits
Design and test of MEM
Contacts
Office: T107
salvador.mir

univ-grenoble-alpes.fr (salvador[dot]mir[at]univ-grenoble-alpes[dot]fr)
Tel: +33 4 76 57 48 95