Full-time researcher (CNRS)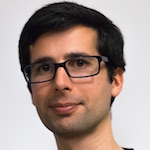 AMS-RF design, AMS-RF-mmW Design-for Test, BIST, ADC static and dynamic BIST, Built-In Analog and RF Signal Generators, Self-Healing of AMS-RF-mmW ICs, Machine Learning Enhanced Design and Test of AMS-RF-mmW ICs, Statistical Calibration of AMS-RF-mmW ICs, Compact Modeling of MOS Transistors, Inversion-Based Analog Design Methods, Cryo CMOS
Professional position
Chargé de Recherche CNRS, Laboratoire TIMA, Grenoble, France, since October 2014.
Head of the Reliable RF and Mixed-signal Systems (RMS) group, since January 2021.
Member of TIMA Scientific Council and Laboratory Council.
Education
Habilitation à diriger des recherches
July 2019 - Université Grenoble Alpes, EEATS doctoral school
European Ph.D. in Microelectronics
July 2009 - University of Seville, Spain
Thesis Title: On-Chip Generation and Evaluation of Analog Test Signals for Analog and Mixed-Signal BIST Applications (Thesis Supervisor: Dr. Diego Vázquez)
Licenciado en Física (5-year degree in Physics), graduated with honors, ranked first in class
(June 2003 - University of Seville, Spain)
Research milestones and activity highlights in the last 5 years
Scientific highlights
First-ever non-intrusive mm-wave test: we have outlined and demonstrated the first-ever machine learning-based non-intrusive test methodology for mm-Wave circuits. This work was awarded a Best Paper Award from the IEEE European Test Symposium 2018 and a Best Poster Award from the Journées Nationales de Réseau Doctoral en Micro-nanoélectronique 2017.
Advanced modeling of mm-wave couplers for design enhancement: first-ever design-oriented model considering frequency-dependent electrical losses. This work was the Best Reading Paper in the Decem- ber 2020 issue of IEEE Trans. on Microwave Theory and Techniques.
First-ever OBT technique for mm-wave circuits: we have demonstrated the potential of Oscillation- Based Test techniques for the test and calibration of phased arrays. This work was selected as a Best Paper candidate in IEEE VLSI Test Symposium 2018.
First-ever exploration of causal features for AMS-RF indirect test:  in collaboration with the Institute of Microelectronics of Seville (IMSE-CNM), we have proposed novel causal feature selection techniques for diagnosis enhanced machine learning-based test of AMS-RF circuits. This work was selected as a Best Paper candidate in Design Automation and Test in Europe 2017. 
Communication and editorial activities
Review Editor for Wiley's International Journal of Circuit Theory and Applications. Guest Editor for international journals, including the Journal of Electronic Testing and the IEEE Transactions on Circuits and Systems-I: Regular Papers.
Technical Program Chair for the IEEE Interregional NEWCAS conference (2020 and 2021 editions).
Topic Chair in Design Automation and Test in Europe for topic Design and Test for Analog and Mixed-Signal Circuits and Systems (2020 and 2021 editions).
Program committee member for the main international events in my area of research: IEEE European Test Symposium, IEEE VLSI Test Symposium, IEEE Asian Test Symposium, Design Automation and Test in Europe, IEEE International Mixed-Signal Testing Workshop, IEEE International Symposium on Circuits and Systems, IFIP/IEEE International Conference on Very Large Scale Integration, etc.
Collaborations
PYXCAD Common Laboratory with the company XDIGIT, focused on design of advanced Analog-to-Digital converters for imaging applications.
Industrial collaborations with ST Microelectronics (3 CIFRE PhDs, TARANTO and HADES European projects, Nano2017 and Nano2022 programs) and NXP (1 CIFRE PhD to start in 2021).
Industrial collaboration with NXP (1 CIFRE PhD).
Academic collaborations with RFIC-Lab, Grenoble, France, IMSE-CNM, Seville, Spain and the Indian Institute of Technology Johdpur, India.
Publications
Contacts
Office: T215A
manuel.barragan

univ-grenoble-alpes.fr (manuel[dot]barragan[at]univ-grenoble-alpes[dot]fr)
Tel: +33 4 76 57 46 81