Associate Professor (Grenoble INP)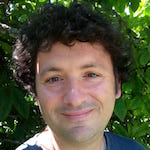 Digital Testing, Automation, Embedded Systems and Reliability
Michele Portolan is currently Senior Associate Professor at Grenoble-INP (since 2013).
Previously he was a Member of Technical Staff at Bell Labs Alcatel-Lucent (now Nokia) in Ireland and France from 2007 to 2013. He received his PhD in Microelectronics in 2006 from Grenoble-Institute of Technology (Grenoble-INP), France. In 2003 he received both a Masters in Telecommunication Engineering from Grenoble-INP a Master in and Electronics Engineering and Politecnico di Torino, Italy, as part of a Double-Degree program.
His main research themes are Digital Testing, Automation, Embedded Systems and Reliability
He is one of the signing member of the IEEE 1687-2014 standard and part of several Working Groups, such as IEEE P1687.1.
He is the author of papers in Journals and International Conferences and has been granted several Patents from the USPTO and the EPO. 
Contacts
Office: T306
michele.portolan

univ-grenoble-alpes.fr (michele[dot]portolan[at]univ-grenoble-alpes[dot]fr)
Tel: +33 4 76 57 48 55